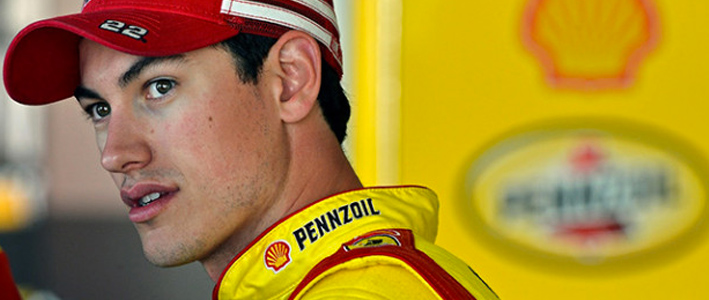 NASCAR Betting Report on Joey Logano's Win at Cheez-It 355
What a difference a week makes. Last week, Joey Logano was one of the favorites in autoracing betting at Pocono with just three laps to go, and he ran out of gas. This week, he completed a weekend sweep at Watkins Glen International, tallying his very first win on a road course in the NASCAR Sprint Cup Series.
Quick Look at the NASCAR Betting Report on Joey Logano's Win at Cheez-It 355
Logano brought the pressure on race leader Kevin Harvick throughout a green-flag run of 30 laps going all the way to the finish at Sunday's Cheez-It 355. Logano used the final two corners of the 2.45 mile road course to make the winning pass. Meanwhile, Harvick was the one who ended up running out of gas, faltering in Turn 6.
This is Logano's tenth victory of his career – and his second during the 2015 season. He ended pu going across the finish line 5.273 seconds faster than Kyle Busch. Busch ended up taking second place, while Harvick got third, as he was still able to coast across the finish line even though he had run out of gas before. Matt Kenseth followed Harvick in for fourth place, and fifth went to Kurt Busch, who had to deal with a pit road penalty (his crew came over the wall to quickly at a stop). Logano became the very first driver to take home first in both the XFINITY and Sprint Cup Series races at Watkins Glen International in one weekend.
Logano would not have won if Harvick had managed to finish the race with gas. Driving the #22 Team Penske Ford, he got close to Harvick, but Harvick picked up his pace – which Logano was hoping for as the acceleration was more likely to make Harvick run out of fuel. It ended up that Logano was the leader for only one lap in the entire race – luckily, it was the very last race. Logano took some satisfaction out of winning a race the same way he lost his race the week before.
This means that every driver who has a victory this season (except for Kyle Busch) has earned a slot in the Chase for the NASCAR Sprint Cup, assuming that all of those drivers start all of the races left in the regular season. Busch missed 11 races and has just finally come into the top 30 in the standings for the first time this season.
Because Busch already has four victories, he only has to remain in the top 30 for the rest of the season to qualify as well. This is why he didn't make a big push to catch and pass Logano in the last laps of the race. All he has to do is maintain where he is in the standings. Busch was also unwilling to risk running out of gas and end up falling out of the top 30.
Some other drivers are going to have a harder time qualifying for the Chase now. Jeff Gordon ended up finishing 41st at the race, slipping to 12th in the standings. Kasey Kahne got into a bad wreck when the field got accordion behind Sam Hornish Jr. after a restart on Lap 49. Kahne ended up slipping to 17th in points, which would put him outside qualification for the Chase at this time.