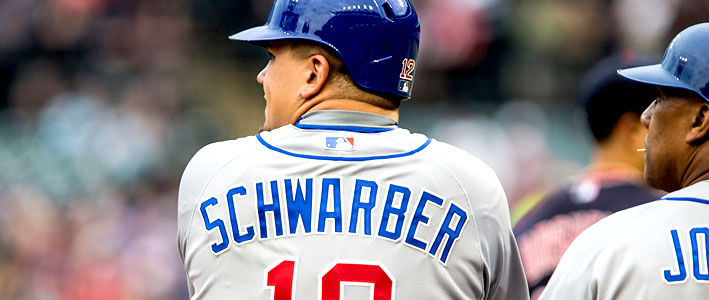 Rookie MLB Betting Fans Should Follow: Cubs' Kyle Schwarber
When Chicago had to bring up Kyle Schwarber to play catcher, they thought –as most MLB betting fans did– that it would be a stopgap remedy for a situation. However, his hot bat and his easy assimilation into catching at the major-league level have the Cubbies thinking about keeping him around. For now, the team is considering giving him some outfield time as well. On Wednesday, he went 2-for-3 and had the only RBI in a 9-1 loss to the Reds, and his bat is keeping him here, at least for the time being.
Rookie MLB Fans Should Follow: Cubs' Kyle Schwarber
.@kschwarb12 just let the baseball world know he's arrived: http://t.co/JhGwhgnh8n #ShowStopper pic.twitter.com/WYPdMKkqG3

— MLB (@MLB) July 22, 2015
So far, Schwarber has only played in 13 games. However, he is hitting .409 with three round-trippers and 11 RBI in those 13 games. He's open to moving to the outfield as well, but right now he is hard at work learning about opposing hitters and developing his technique behind the plate, so the learning curve in the outfield could become a little steeper than manager Joe Maddon might think.
Schwarber has played in the outfield before, but only at the minor-league level. Last season, he appeared in the outfield 36 times and has said that playing in the outfield was a challenge after doing his work before the game as a catcher. He emphasized the importance of getting repetitions beforehand so that his defense remains solid. He realizes that defense can play a key role in winning games – a principle that Joe Maddon teaches over and over again – and Schwarber wants to excel no matter where he appears on the field.
Meanwhile, starting catcher Miguel Montero appears to be on the shelf for at least another month, after spraining his left thumb. Montero hits left-handed (like Schwarber), and the Cubs also had David Ross and Taylor Teagarden on the major-league roster. However, the Cubs had three catchers on the roster when the season opened, and team president Theo Epstein is known for hoarding left-handed hitters. If Schwarber can transition effectively to the outfield, he adds some pop to the Chicago lineup, at least for the time being.
Maddon, of course, understands that Schwarber will not hit over .400 for the rest of the season – or even the rest of July. Opposing pitchers will watch film on him and figure out the best places to put the ball so that he'll get out. One advantage that Schwarber has is his short swing, which doesn't make him lunge and keeps him from getting smoked by plus fastballs. While he has chased some pitches, particularly early in counts, he has shown signs that he can be patient with two strikes and protect the plate while avoiding those pitches that bounce in the dirt or climb up the ladder for an easy swinging strike three.
Could this be the year when the Cubs return to the playoffs? For now, Maddon is optimistic, and he definitely has a track record of postseason appearances – and success – with Tampa Bay, making it all the way to the World Series in 2008. For Cubs fans, the performances of players like Schwarber – and the terrific Kris Bryant – are making this a fun summer.
Sources
ChicagoTribune.com (http://www.chicagotribune.com/sports/baseball/cubs/ct-kyle-schwarber-seeking-playing-time-20150722-story.html)
ESPN.com (http://espn.go.com/mlb/player/_/id/28586/miguel-montero)