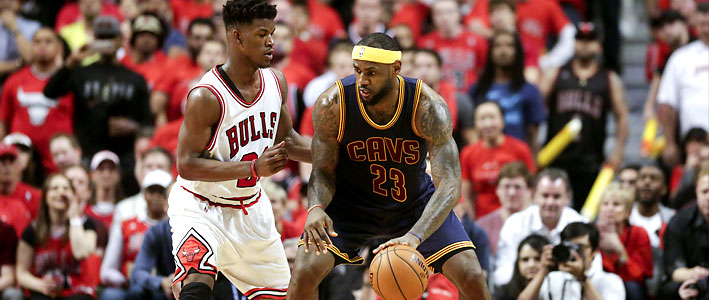 Cleveland vs Chicago NBA Game Preview
Revenge is a dish best served cold, and in Game 4 of the Eastern Conference semi-final, it was LeBron James doing the serving in the form of a game winning buzzer-beater. The Cavs are on a high note, so expect them to dominate the Bulls –and overall online betting— on Tuesday night.
Cleveland Cavaliers vs Chicago Bulls NBA Game Preview
Date: Tuesday, May 12, 2015
Time: 7:00PM
Venue: Quicken Loans Arena
Opening Line: Cleveland -240
The 4th game in this back and forth series was not a pleasant one to watch, as both teams fought tooth and nail to gain the ascendancy. James had a big game, but he was also sloppy once again with the turnovers. The truth of the matter is that if the Bulls had played better, they may well have put the Cavs away early, as Cleveland experienced a few offensive dry spells during the encounter.
Derrick Rose did way to break free of the shackles imposed by James and Iman Shumpert, and ended up finishing with 31 points. He struggled to break free of the containment in the 4th quarter, though, allowing the Cavs to chip away. J.R. Smith has been solid since returning, which is good news since Kyrie Irving seems to be struggling offensively, probably because he is not 100% fit.
As mentioned earlier, the Bulls had ample opportunity to put this one away, but inexplicably went cold in both the 2nd and 4th quarters. There was a period in the second where they gave up 16 straight points to Cleveland, whilst failing to score from the field for 7 minutes. This all came at a time when the Bulls were up by 7 and seemingly in control. It was a solid defensive effort from the Bulls, but they were missing the killer instinct that could have put the Cavs in a serious hole in the series. They also went to the line a whole lot less (12 versus 24) times than the Cavaliers.
Rose very nearly came up big again at the end of the game, but the big shots he hit at the end would have been nice if they had come earlier in the quarter when the team was struggling. Chicago are going to have to be a lot more consistent when they head back to Cleveland for game 5 on Tuesday night. The Cavaliers have 2 of the final 3 games of the series on home court, which is not a chore that the Bulls will be relishing, Chicago did manage to steal one of the first two games played there, and they will be hoping to repeat that on Tuesday.
Key Online Betting Trends
Cleveland is 8-2 SU in its last 10 games
The total has gone UNDER in 5 of Cleveland's last 7 games
Cleveland is 23-2 SU in its last 25 games at home
The total has gone OVER in 4 of Cleveland's last 6 games at home
Cleveland is 1-5 ATS in its last 6 games when playing Chicago
Chicago is 4-1 ATS in its last 5 games
Chicago is 10-4 SU in its last 14 games
The total has gone UNDER in 5 of Chicago's last 7 games
Chicago is 5-2 ATS in its last 7 games on the road
Chicago is 5-2 SU in its last 7 games on the road
Consider This Before Placing Your Bet
Momentum is huge in any sport, and the Cavaliers have it in spades right now. That killer buzzer-beater combined with heading back home is going to make them tough to beat. I like the Cavs to come away with a close win in Game 5.
Sources
Cleveland.com (http://www.cleveland.com/cavs/index.ssf/2015/05/mri_results_reveal_tendonitis.html)
NBA.com (http://www.nba.com/cavaliers/news/gameday-preview-bulls-150512)