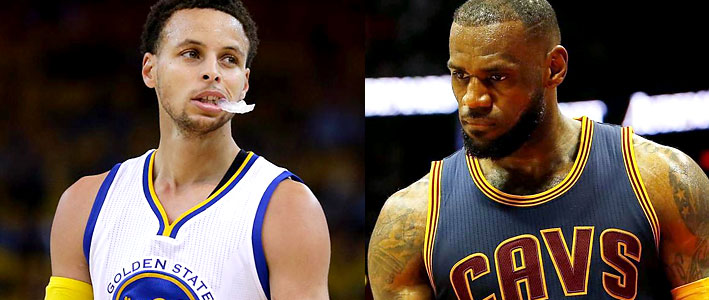 Cleveland vs Golden State NBA Betting Preview
After the Cleveland Cavaliers made surprisingly easy work of the Atlanta Hawks, and the Golden State Warriors fought off an overmatched Houston Rockets bunch, the NBA odds are set for a Finals showdown between Stephen Curry and Lebron James. Both teams get a rest, as Game 1 is set for Thursday, June 4, in Oakland.
Lebron James is slated to appear in his fifth consecutive NBA Finals. The Cavs are back for the first time since 2007, when James was a much younger Cleveland cager. The Warriors are back in the Finals for the first time since 1975. If you look at the numbers, the Warriors are the easy pick. Their record for the season was 67-15, tops in the NBA – and they play in the much tougher Western Conference. The Cavs finished 53-29, which earned them the East's second seed but only would have brought them a 4-seed in the West. When it came to points per game, rebounds per game and assists per game, the Warriors finished first, sixth and first, respectively. The Cavs finished eighth, 18th and 10th. It also looks like the pairing of Klay Thompson and Stephen Curry will be able to overmatch Lebron & Co., particularly with absence of Kevin Love.
Cleveland Cavaliers vs Golden State Warriors NBA Betting Preview
It looks like Lebron's work is more than cut out for him, making the Warriors the choice. However, Lebron is the very best player on the planet right now, so betting against him is a dicey proposition. Let's look at some of the matchups in this series.
Point Guard: Kyrie Irving vs Stephen Curry
Both of these point guards are capable of dominating a game, although Stephen Curry has shown that he has a more transcendent record, at least during this season. Irving is suffering from some tendinitis in his knee that will need to clear up for Irving to be at his very best. Curry appears to be concussion-free after that scary tumble in Game 4 of the Western Conference Finals, so he just needs to get rid of the soreness. Irving doesn't have the defensive skills to guard Thompson or Harrison Barnes; instead, he needs to check Curry. If Irving is healthy enough to keep up with Curry, that will help the Cavs' chances a lot.
Shooting Guard: Iman Shumpert vs Klay Thompson
If Shumpert has to spend a lot of this series guarding Curry, then his shooting is likely to suffer. On offense, Shumpert doesn't have to do a lot of creating. All he has to cut and then space out to the corners or wing and find an open spot to shoot from when he gets the ball. Even though Shumpert is seen as a strong defender, the Warriors present a lot of problems outside. Thompson isn't great when it comes to dribbling and attacking, but if you do a hard closeout he will make you suffer. He can post up a bit – and he just spent five games marking James Harden. Defensively, the Finals will feel like a vacation for Thompson.
Small Forward: Lebron James vs Harrison Barnes
The defensive assignment here will tax Barnes, as he has to body up Lebron after chasing him around the floor. However, Barnes will get a lot help from others on the team, who have several different perimeter defenders to roll in off the bench.
Power Forward: Tristan Thompson vs Draymond Green
Green has been an elite defender in basketball this whole season, helping the Warriors take the mantle of the league's best defense. He'll also need to commit to rebounding, though, to keep Tristan Thompson off the boards. This battle will determine the interior conflict between the team.
Center: Timofey Mozgov vs Andrew Bogut
Mozgov runs the pick and roll as well as any big man now, but having to defend Bogut on the perimeter will present a challenge. His passing, screen setting and rolling to the basket make him a major threat. He'll need to draw some fouls on Bogut early on and establish himself as an option for the perimeter players as they penetrate.
Sources
CBSsports.com (http://www.cbssports.com/nba/eye-on-basketball/25198506/why-kevin-love-is-reportedly-set-to-explore-free-agency0
NBA.com (http://www.nba.com/playerfile/stephen_curry/)