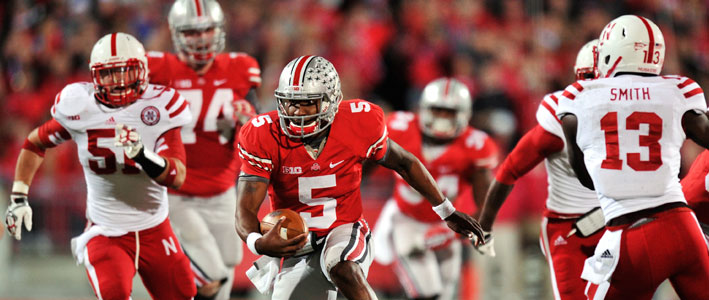 2015 Week 1 Most Intriguing NCAA Football Odds Games
Last season was a historic one for college football in that it was the first time that we saw playoff games played. Programs are now well aware that simply skating through a powder puff schedule in no longer a guarantee of anything, as the introduction of a playoff system has raised the bar for everyone. The upshot is now that we are getting great match-ups to begin the season, where once it was all big programs versus lesser schools. Let's look at some match-ups that promise to be great in Week 1 of the coming college football betting season.
Let's Review The 2015 Week 1 Most Intriguing NCAA Football Odds Games
Ohio State vs Virginia Tech
All eyes were going to be on the Buckeyes this season as they set out to defend their crown, but this Week 1 game takes that interest to all new levels of awesome. Ohio State Buckeyes only dropped 1 game last season, and it just so happened to be against this very team. The same result in 2015 would mean that the defending champions would have to be perfect the rest of the way of they hope to repeat.
Wisconsin vs Alabama
This is a huge game that deserves the largest setting possible, and it gets it, as it will be played at Cowboys Stadium in Arlington, Texas. These are a pair of teams that have a legitimate shot of being in the playoff mix at the end of the season, but it all begins with getting the W in this one.
Michigan vs Utah
The Utah Utes are sure to come into this game as heavy favorites, but to be honest, fans are going to be tuning in to see how quickly Jim Harbaugh can turn around the Michigan program. It's an awful lot of pressure for one man to shoulder, but if he and his team can come away with a win against a ranked team in the opening week of the season, there is no telling how it might go the rest of the way.
Texas vs Notre Dame
Is there anything better in college football than a match-up between two of the biggest, most iconic names in the sport? Texas has experienced some lean years of late, but in the second year of Charlie Austin's tenure, good things are expected. There is certainly no better way to test your current crop of players than taking them to South bend in Week 1.