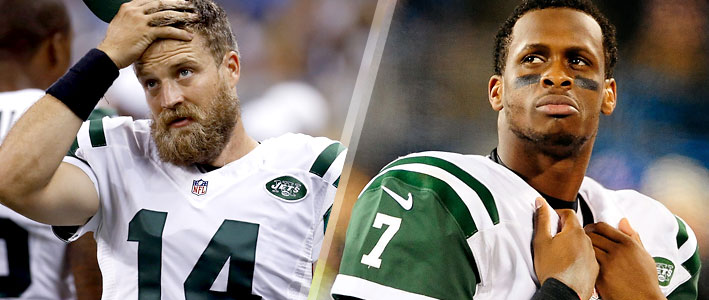 Is Ryan Fitzpatrick a Better Starter than Geno For NFL Betting In 2015?
In one of the most bizarre stories in recent NFL betting history, the New York Jets will be forced to go for up to ten weeks without their starting quarterback, who suffered a jaw injury in a laughable off-field incident. As you probably know already, Geno Smith broke his jaw after being punched in the face during a locker room incident with linebacker Ikemefuna Enemkpali. Following the incident, Coach Todd Bowles held a press conference, explaining about the $600-dollar feud that led to the injury, and termed the whole case as a very childish incident that even sixth-graders would have handled maturely.
Jets unlikely to use IR/designated for return on Geno Smith http://t.co/Ergkl2aHHm

— ProFootballTalk (@ProFootballTalk) August 18, 2015
In the aftermath of the incident, Enemkpali was released by the Jets (and later snatched by the Bills), while Smith now has to miss the preseason games and the starting weeks of the new season. This means that backup QB Ryan Fitzpatrick and rookie Bryce Petty will be fighting for the starting job, with Fitzpatrick having the upper hand because of his experience. Smith was already under fire even before the mishap and many people (us included) had already predicted that he'd lose the starting job to Fitzpatrick in the course of the season. The fact that he's been injured and the job is now Ryan's to lose is therefore not a shocker, with many New York fans even celebrating his incident. So what does Smith's injury and Fitzpatrick's projected escalation to the starting job mean for the Jets in the NFL betting lines?
The Impact of Smith's Absence
Smith is one of the players that were expected to take their play to the next level as a starter, mainly because he looked like a clear fit for offensive coordinator Chan Gailey's system. He has been with the Jets since 2013 and had a decent rookie season that saw him record 3,046 yards, 12 touchdowns and 21 interceptions. However, his game has been on and up-and-down motion since then, with his injuries and wobbly form making it hard to point a finger to whether he is a bad or good player.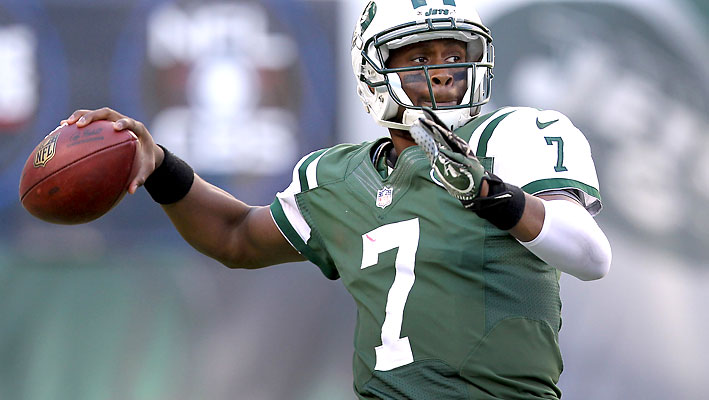 Last season, he finished the season with 2,525 passing yards, 13 touchdowns and 13 interceptions for a QB rating of 77.5 in 14 games, summing up an underwhelming year that saw the Jets finish with a 4-12 record. In the offseason, the New York's head coach had announced that the 24-year-old Smith would be the team's starter, but with his injury, Fitzpatrick gets the opportunity to start and prove he is worth being traded in from Houston.
Out Smith, In Fitzpatrick as a Starter
In his season with the Texans in 2014, Fitzpatrick completed 63 percent of his passes for 2,483 yards and 17 touchdowns and 8 interceptions, sporting a career-best 95.3 QB rating. Evidently, he was more efficient and clinical in his game than Smith, something that is affirmed by the fact that the Texans finished the 2014 season on a 9-7 mark.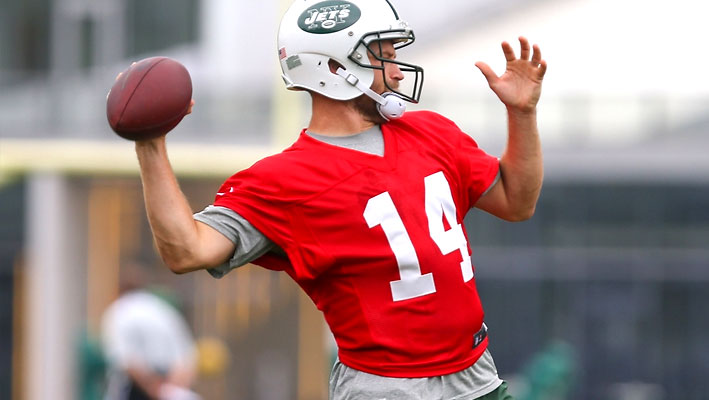 At 32, Fitzpatrick is not anything close to what the Jets had in mind regarding the more athletic Smith, but his experience and great football IQ comes in handily for the Jets. After all, he threw for three more touchdowns and five fewer interceptions than Smith.
Fitzpatrick in the Preseason
In the preseason game against Detroit, the Jets took caution with the Harvard-graduate, obviously because he is now the starting quarterback and they would not risk any injuries on him before the regular season starts. That's the reason he featured for the team very briefly, completing 2 of 3 passes for 16 yards.
The first two passes he completed were a 12-yarder to Brandon Marshall and a four-yarder to Eric Decker. His third pass was a 16-yarder to tight end Jeff Cumberland. He did not put enough power on the ball, allowing Detroit's Darius Slay to touch the ball on its way, which forced the ball to bounce off Cumberland's hands for a drop. Still, the Jets settled for a 34-yard field goal by Nick Folk, which marked the end of Fitzpatrick's unofficial debut.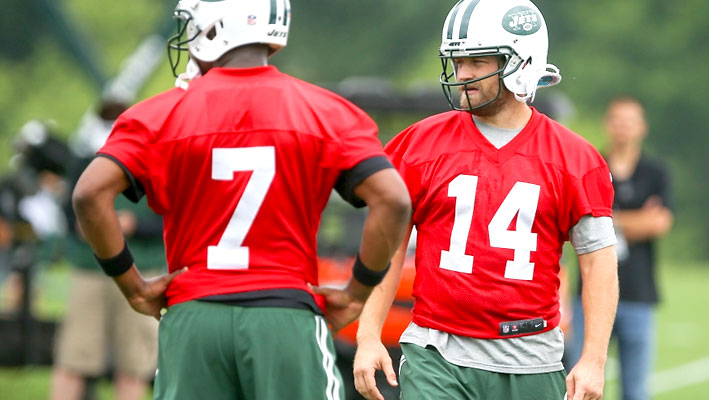 Obviously, there's not much to judge from such a brief performance, so we'll have to wait for more preseason games or the regular season to give a finer assessment of what he can do with the Jets. As a general commentary, though, he looked sharp, something we are likely to see more of in the near future.
Final Remarks
The absence of Smith will surely be felt by the Jets, but the presence of Fitzpatrick and rookie Bryce Petty should provide them with decent-enough lethal sting on the offense. Predictably, this could even be a blessing in disguise, considering Fitzpatrick was more efficient than Smith in 2014 and has been a more consistent performer throughout his career. All this is, however, based on circumstantial evidence, so we'll just have to hold out and wait for the NFL betting lines to prove us right or otherwise in the new season.
Sources
NYDailyNews.com (http://www.nydailynews.com/sports/football/jets/rex-ryan-jokes-joint-practice-no-fighting-ik-enemkpali-article-1.2328531)
ESPN.com (http://espn.go.com/nfl/player/_/id/9705/brandon-marshall)