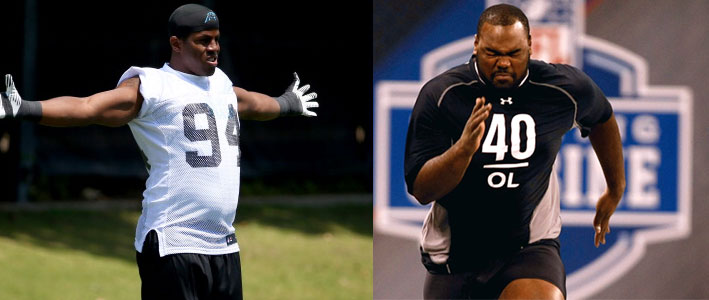 Panthers' Minicamp Concerns For This NFL Betting Season
It's being a long off season for NFL betting fans, but despite the long weeks, there are some many things we can start analyzing previous to the regular season action, including what's happening right now in the NFC south. The Carolina Panthers ended their June mandatory minicamp on a dark note, as left tackle Michael Oher and defensive end Kony Ealy came to blows during Day 2 of the team's minicamp. Tempers flared during the brawl and other teammates joined in, trading blows and kicks akin to a blended mixture of kickboxing and wrestling. In the end, there were no major injuries (at least, as per the reports about the squabble) and coach Ron Rivera said it was not a big deal. In fact, according to the head coach:
"It'll happen, and the same thing will happen in training camp, unfortunately. We've been going at it now for four weeks with OTAs and now minicamp, and this was our first day we had anything. So it was, unfortunately, inevitable and I think the heat really had a little bit to do with it."
So, if you want to catch the next edition of Carolina's rumble in the jungle, ensure that you keenly monitor the news emerging from their training camp, starting on July 30th. In the meantime, let's take a look at some of bugging questions still facing the Panthers and how it could impact their NFL betting odds in the upcoming season.
What Can be Expected of Cam Newton in 2015?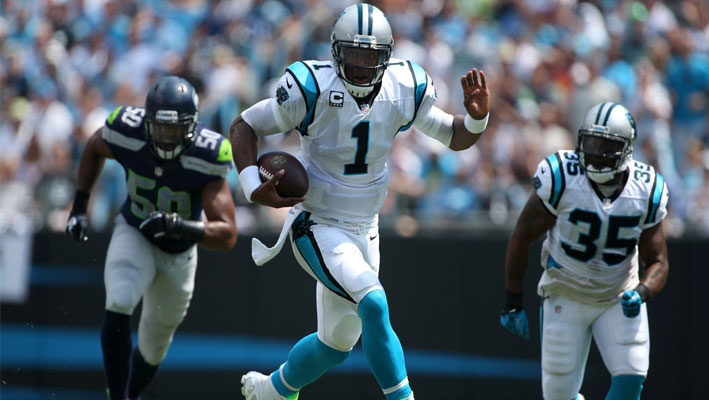 Actually, I thought about asking if Cam Newton is worthy of being a $100 million NFL quarterback, but I recanted the thoughts for the sake of not starting an endless discussion about the Carolina signal-caller. Even with all the criticisms he has faced, it is common knowledge that Newton is one of the best dual-threat quarterbacks in the NFL. Unfortunately, the Panthers have had one of the poorest offensive lines in the league, which often means that Newton has to take a lot of beating as he strives to make plays. In the bid to solve the weak O-line, the panthers added Michael Oher, Daryl Williams and Jonathan Martin in the offseason.
At the moment, it is too early to tell if the Panthers are improved or not, though the fact that Oher was one of the instigators of the June minicamp fight should mean bad news to opposing teams, right? After All, the current O-line can't perform as bad as last year's group. Added to the motivation Newton has found in his new big-money contract, the quarterback should be due for a better year with stronger numbers than in 2014.
Who Will get to Start in Right Tackle and Wide Receiver Positions?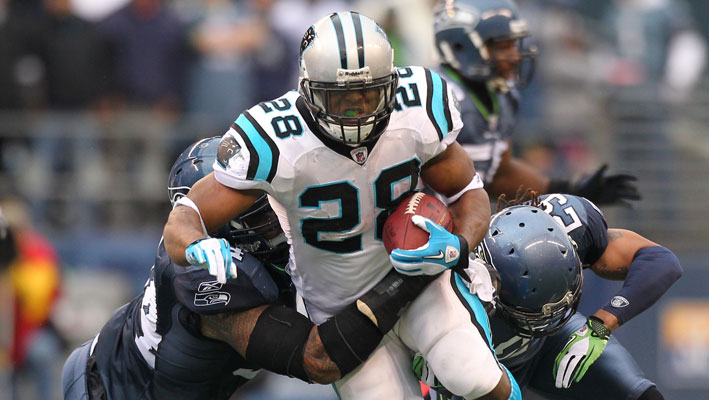 After a dismal play at right tackle last year, the Panthers are very cautious about the player they pick to start in the position in 2015. Last year's starter Nate Chandler is looking improved, but he is facing dangerous competition from Mike Remmers and 2015 fourth-round pick Daryl Williams and free-agent acquisition Jonathan Martin. Most probably, everything about the right tackle position will be decided during training camp, though as per our assessments, Remmers' strong finish in 2014 and his decent showing in the offseason practices should make him the favorite for the starting job when the new NFL season begins.
In the receiving department, Kelvin Benjamin is the only guaranteed starter. Benjamin had a strong performance in 2014 and he is reportedly recuperated from his hamstring issues, so he is almost guaranteed to retain his starting position. Looking at the rest of the players vying for a starting WR role, rookie Devin Funchess (who played all three receiver positions when Benjamin was out with an injury) figures to be solid contender, as he looked naturally good and comfortable during the OTAs and minicamp. Veterans Jerricho Cotchery and Ted Ginn are also available for consideration, with Gin looking to be ahead of Cotchery, as he got more snaps in the offseason and is a speedier player. Stephen Hill, Corey Brown and Brenton Bersin are also hoping to get snaps as starters.
Sadly, with a very crowded field and very few options at the starting WR positions, it looks like Benjamin will be leading the starters, followed by Funchess, Ginn and Bersin, respectively. It is only in the event that the above quadruple is indisposed that Cotchery and company could find their way into starting roles.
Sources:
ESPN.com: http://espn.go.com/nfl/player/_/id/12621/michael-oher
NFL.com: http://www.nfl.com/player/kelvinbenjamin/2543471/profile