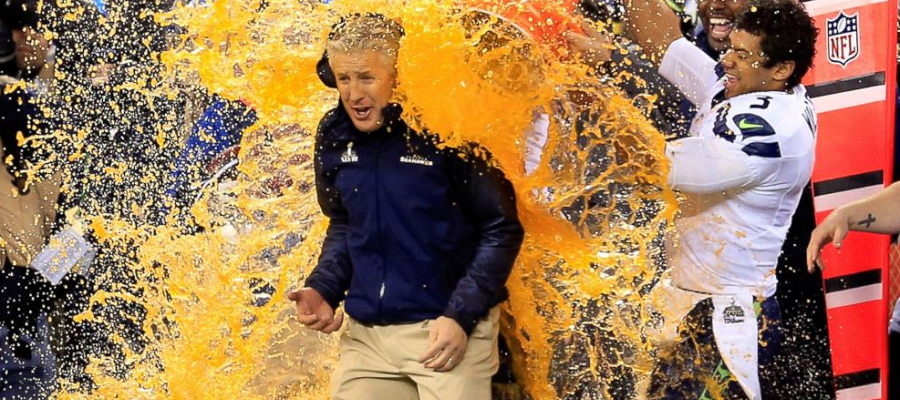 Super Bowl 50 Props That Will Make your Day
Things have changed a lot since the good old days when the betting action was limited to a few options on each game. Since a couple of decades ago, the number of outcomes and scenarios you can bet on has grown to include all kinds of crazy stuff, giving bettors a multitude of opportunities to choose from.
The first official was on whether Bears defensive lineman William "Refrigerator" Perry would score a TD in Super Bowl XX. So now that the action is just hours away, football fans still have a chance to bet on a long list of Super Bowl prop bets on crazy stuff ranging from the length of the national anthem, the Half Time Show music set, or even the color of the Gatorade shower. Remember that you can bet on this selection of right here at MyBookie.ag Online Sportsbook.
Super Bowl 50 Props That Will Make your Day
COLOR OF THE DRINK POURED ON THE WINNING COACH
ORANGE: +120
BLUE: +275
CLEAR: +350
YELLOW: +350
RED: +575
GREEN: +1000
PURPLE: +1000
WHICH SONG WILL COLDPLAY PLAY FIRST DURING HALF TIME
ADVENTURE OF A LIFETIME: +170
FIX YOU: +300
A SKY FULL OF STARS: +400
VIVA LA VIDA: +450
CLOCKS: +700
SPEED OF SOUND: +850
HEAD FULL OF DREAMS: +900
PARADISE: +1000
HOW MANY TIMES WILL CAM NEWTON DO THE OPEN SHIRT SUPERMAN
OVER 2½ TIMES: +105
UNDER 2½ TIMES: -145
WILL THERE BE AN EARTHQUAKE DURING THE GAME?
YES: +1000
NATIONAL ANTHEM LENGTH
OVER 120½ SECONDS: -120
UNDER 120½ SECONDS: -120
MARGIN OF VICTORY
BRONCOS WIN BY 01-03 POINTS: +850
BRONCOS WIN BY 04-06 POINTS: +1200
BRONCOS WIN BY 07-10 POINTS: +1000
BRONCOS WIN BY 11-13 POINTS: +2400
BRONCOS WIN BY 14-17 POINTS: +1700
BRONCOS WIN BY 18-21 POINTS: +2600
BRONCOS WIN BY 22 OR MORE: +1400
PANTHERS WIN BY 01-03 POINTS: +500
PANTHERS WIN BY 04-06 POINTS: +700
PANTHERS WIN BY 07-10 POINTS: +850
PANTHERS WIN BY 11-13 POINTS: +1100
PANTHERS WIN BY 14-17 POINTS: +350
PANTHERS WIN BY 18-21 POINTS: +1000
PANTHERS WIN BY 22 OR MORE: +450
FIRST SCORING PLAY
BRONCOS ANY OTHER TD: +2600
BRONCOS FIELD GOAL: +350
BRONCOS SAFETY: +4500
BRONCOS TD PASS: +450
BRONCOS TD RUN: +900
PANTHERS ANY OTHER TD: +2000
PANTHERS FIELD GOAL: +250
PANTHERS SAFETY: +4500
PANTHERS TD PASS: +250
PANTHERS TD RUN: +550
SUPER BOWL 50 – PANTHERS VS BRONCOS ALL BETS ACTION
BOTH PLAYERS TO SCORE A TOUCHDOWN C NEWTON & CJ ANDERSON: +400
BOTH PLAYERS TO SCORE A TOUCHDOWN C NEWTON & D THOMAS: +400
BOTH PLAYERS TO SCORE A TOUCHDOWN C NEWTON & E SANDERS: +350
BOTH PLAYERS TO SCORE A TOUCHDOWN C NEWTON & J STEWART: +325
BOTH PLAYERS TO SCORE A TOUCHDOWN C NEWTON & R HILLMAN: +450
BOTH PLAYERS TO SCORE A TOUCHDOWN D THOMAS & C NEWTON: +350
BOTH PLAYERS TO SCORE A TOUCHDOWN D THOMAS & CJ ANDERSON: +400
BOTH PLAYERS TO SCORE A TOUCHDOWN D THOMAS & E SANDERS: +400
BOTH PLAYERS TO SCORE A TOUCHDOWN D THOMAS & J STEWART: +350
BOTH PLAYERS TO SCORE A TOUCHDOWN D THOMAS & R HILLMAN: +500
BOTH PLAYERS TO SCORE A TOUCHDOWN: E SANDERS & CJ ANDERSON: +400
BOTH PLAYERS TO SCORE A TOUCHDOWN: E SANDERS & J STEWART: +400
BOTH PLAYERS TO SCORE A TOUCHDOWN: G OLSEN & C NEWTON: +300
BOTH PLAYERS TO SCORE A TOUCHDOWN: G OLSEN & CJ ANDERSON: +400
BOTH PLAYERS TO SCORE A TOUCHDOWN: G OLSEN & D THOMAS: +350
BOTH PLAYERS TO SCORE A TOUCHDOWN: G OLSEN & E SANDERS: +350
BOTH PLAYERS TO SCORE A TOUCHDOWN: G OLSEN & J STEWART: +325
BOTH PLAYERS TO SCORE A TOUCHDOWN: G OLSEN & R HILLMAN: +450
BOTH PLAYERS TO SCORE A TOUCHDOWN: J STEWART & CJ ANDERSON: +400
BOTH PLAYERS TO SCORE A TOUCHDOWN: R HILLMAN & CJ ANDERSON: +600
BOTH PLAYERS TO SCORE A TOUCHDOWN: R HILLMAN & E SANDERS: +550
BOTH PLAYERS TO SCORE A TOUCHDOWN: R HILLMAN & J STEWART: +450
BOTH PLAYERS TO SCORE A TOUCHDOWN: T GINN & C NEWTON: +400
BOTH PLAYERS TO SCORE A TOUCHDOWN: T GINN & CJ ANDERSON: +500
BOTH PLAYERS TO SCORE A TOUCHDOWN: T GINN & D THOMAS: +450
BOTH PLAYERS TO SCORE A TOUCHDOWN: T GINN & E SANDERS: +450
BOTH PLAYERS TO SCORE A TOUCHDOWN: T GINN & G OLSEN: +400
BOTH PLAYERS TO SCORE A TOUCHDOWN: T GINN & J STEWART: +400
BOTH PLAYERS TO SCORE A TOUCHDOWN: T GINN & R HILLMAN: +650
SB 50 CROSS SPORTS PROPS
SHORTEST FIELD GOAL OF GAME VS LEBRON JAMES POINTS
LEBRON JAMES (CLE) POINTS: +1½-115
SHORTEST MADE FG OF GAME: -1½-115
BRONCOS FIRST DOWNS VS 76ERS FIRST QUARTER POINTS
76ERS 1ST QUARTER POINTS: -5½-115
BRONCOS FIRST DOWNS: +5½-115
PANTHERS+BRONCOS FIRST HALF POINTS VS LAKERS/SPURS MARGIN OF VICTORY
LAKERS/SPURS MARGIN OF VICTORY: +½-115
PANTHERS+BRONCOS 1ST HALF PTS: -½-115
PEYTON MANNING COMPLETIONS VS KEVIN DURANT POINTS
KEVIN DURANT (OKC) POINTS: -6½-115
P MANNING (DEN) COMPLETIONS: +6½-115