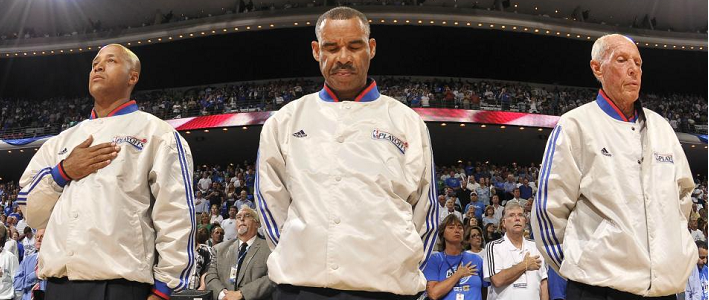 NBA Betting: NBA and the Refs Agree to a Seven-Year Deal
#NBARef union comments on the new 7-year deal with the @NBA. http://t.co/R6gtgcPL44 pic.twitter.com/01LFbK7jAe

— NBA Referees (@OfficialNBARefs) August 17, 2015
The benefit of coming to this agreement early is that it allows the league and the union to stay out of the public bickering that can become part of the negotiations as the deadline approaches. It also means that the NBA will not be put in the situation of having to employ replacement officials. The league clearly is aware of the chaos that ensued with the NFL tried that strategy in 2012 and wanted to avoid that at all costs. That year, the NFL locked out the full-time referees, bringing in replacements for a lot of the games in the first month.
All of these changes have to be making Dallas Mavericks owner Mark Cuban happy, as many of the changes are the results of improvements that he has been suggesting for more than a decade. When David Stern was the NBA commissioner, Cuban received millions of dollars in fines for his comments about and to NBA referees, including some instances when he registered his frustrations loudly on the floor during basketball games. He also ran frequent analyses of referee performance and submitted them to the league, and over time his input apparently has found a receptive ear, as more and more instant replay comes to bear.
In the final analysis, referees are human –and humans make mistakes. Thanks to the technology that the league is embracing to assist referees, the calls that people can see while watching the game are clearly not right will gradually become less and less frequent. It's easier at times for people who are sitting still to see what three people who are running back and forth with the action happen to miss. The new deal will work to reduce the instance of ongoing mistakes – and keep the NBA from having the PR nightmare that those replacement refs brought to the NFL.
Sources:
USAtoday.com: http://www.usatoday.com/story/sports/nba/2015/08/13/nba-referees-union-reach-deal–7-year-cba/31670381/
Wikipedia.org: https://en.wikipedia.org/wiki/2012_Packers%E2%80%93Seahawks_officiating_controversy